It is with great sadness that we report the passing of two of our long time members,
Nancy Everett.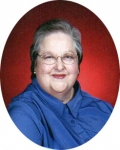 Nancy Gray Everett

Date:
March 24th, 1947 - January 19th, 2008
Obituary:
Truly a dedicated Christian woman evident to all who knew her, Nancy Gray Everett went to join her Redeemer on Saturday, January 19, 2008, after a period of declining health. She passed her last days at her home surrounded by those who love her and whom she loved. Born to James D. (Jack) and Betty Chambers Gray of the Ivy Log community on March 24, 1947, she accepted the Lord as an adolescent. As an adult, she helped to bring vitality, spiritual growth, children's programs and activities, tremendous VBS's for many years, and local missions through her involvement at Ivy Log Baptist Church of which she was a member. For more than 30 years, she published and distributed a monthly newsletter and served as church secretary, both voluntary positions. She taught several age levels of Sunday School, usually working with the youth, and she was a member of the choir. Preceded in death by her parents and grandparents, Nancy is survived by her beloved and devoted husband Rufus Everett, her love of a lifetime. Surviving also are a sister and brother-in-law Gwenelda and Larry Connally, a brother and sister-in-law Bruce and Mazie Gray, all of Blairsville, and a sister and brother-in-law Sherry Gray and Morris Brown of Mebane. NC. A sister-in-law and husband Evelyn and Hobert Payne of Blairsville also survive. Though she and Rufus had no birth children of their own , they were second parents and actively involved in their upbringing to nieces and nephews Rachel Lance, Gary Payne, Anna Roxbury, Katy Jones, Laina Elliott, Mason and Clay Dorsett, and Bethany Garner, also surviving. She was their second mother and they loved, respected, and obeyed her as such. Five great nieces and four great nephews also survive Mrs. Everett. Nancy's formal education included Ivy Log School, graduation with the class of 1965 Union County High School, and a secretarial/business practices diploma from North Georgia Technical School in Clarksville, GA, in 1966. She was an intelligent and dedicated student who excelled in school. Always an avid reader until her sight failed and a voracious letter-writer, she corresponded with relatives, friends, inmates through a prison ministry, and sent cards to those whom she knew needed a kind word and a prayerful heart on their behalf. For many years, she took care of the correspondence and orchestrated an Angel Tree Christmas gift program for children of men and women prisoners of the local area, usually delivering them herself with the help of her nieces. She also volunteered in her sister's high school classroom as "parent" volunteer. Instrumental in helping to found and organize the Good Neighbors Auto Club, she and Rufus handled much of the correspondence and planning for the club's signature event, a car show held during Blairsville's Sorghum Festival. She was a homemaker, a wonderful cook, and a bookkeeper for Everett's Body Shop which her husband owns and operates. A behind-the-scenes worker, Nancy sought no recognition through a life of service to her family, her friends, her church, and her community. Numerous individuals and organizations have been the recipients of Nancy's generous nature, her unwavering commitment to service, her sage advice and considerable financial support. As a granddaughter and a daughter, Nancy was responsible, respectful, loyal, steadfast, and level headed as well as obedient and self-disciplined. She was patient, loving, and selfless when her grandparents then her parents became elderly and required assistance. As a sister, she was trustworthy, wonderfully creative, an anchor, a confidante, a fearless leader, and our heroine and "boss." As a second mother and a beloved aunt, she was free-spirited, greatly adventurous, encouraging, ingenious with games, puzzles and activities, and always available to aid in their pranks and jokes. She had a wonderful sense of humor and a rapier-sharp wit she could unleash if necessary. To all of us, she became a positive role model, a constant on whom folks could depend, and a source of strength and purpose. And in death she exhibited courage beyond measure and a faith beyond doubt. She is our "shining mark." Services for Mrs. Everett included visitation on Sunday January 20, 2008, from 6:00 until 9:00 pm and the funeral service on Monday January 21, 2008 at 3:00 pm at Cochran Funeral Home in Blairsville with Brothers Jerry Karnes and Tony Black officiating. At her request, in lieu of flowers, one may donate to Gideon's International or Ivy Log Baptist Church cemetery fund. Family members have also established a scholarship fund at United Community Bank in her honor. Donations may be sent to Laina Elliott at 3876 Ivy Log Road, Blairsville, GA. 30512. Casket bearers are Chris Anderson, Clay Dorsett, Mason Dorsett, Donald Elliott, Steve Garner, Jon Jones, Matt Lance, Larry Lunsford, Robby Roxbury, and Rick Spies. Honorary pallbearers are Gene Sprayberry and Marcus Sosebee. Interment at Ivy Log Baptist Church Cemetery follows the service. Cochran Funeral Home of Blairsville entrusted with the arrangements for our loved one.

Visitations:
6:00PM to 9:00PM on Sunday, January 20th, 2008 at Cochran Funeral Home Blairsville (map/driving directions)

Services:
3:00PM at Cochran Funeral Home Blairsville on Monday, January 21st, 2008 (map/driving directions)
Obituary from the Cochran Funeral Home Site
James Armistead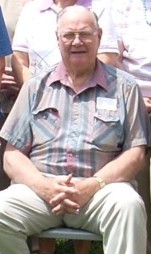 Jim at the 2007 Addington Reunion
Date:
April 26, 1929 to November 8, 2007

James O. Armistead went home to be with the Lord on November 8, 2007. He was 78.
He was born April 26, 1929 in Rutledge , GA to the late Walter B. and Ruby L. (Wright) Armistead. A
Korean War veteran, he served in the U.S Navy from 1948 to 1952, aboard the USS Stickell. Mr.
Armistead was a 1956 graduate of Georgia Institute of Technology. He retired from the DuPont Company
after 30 years of service. He relocated back to Georgia in 1988.
He is survived by his wife of 56 years, Melva (Addington) Armistead; daughter, Deborah ( Armistead)
Zimmerman; granddaughter, Jessica,; and grandson, Robert J. (Bobby), all of Rutledge , GA ; son, James
F. Armistead, and his wife, Pamela; grandsons, Matthew and Daniel; and granddaughter, Jennifer, all of
Newark , DE ; sister, Dorothy Addington and husband, Chester of Westerville, OH.; brother, Marvin
Armistead and wife, Gladys of Conyers , GA ; sister-in-law, Betty Armistead of Monticello , GA; and several
nieces and nephews. He is predeceased by his brother Fred Armistead.
Funeral services were held at Prospect United Methodist Church , (Fairplay) Rutledge , GA and
internment was in Social Circle, GA.

Obituary from the local newspaper