Will of Henry Addington, 1787, Union County, South Carolina
Return to Addington Association Home Page

Go to Transcript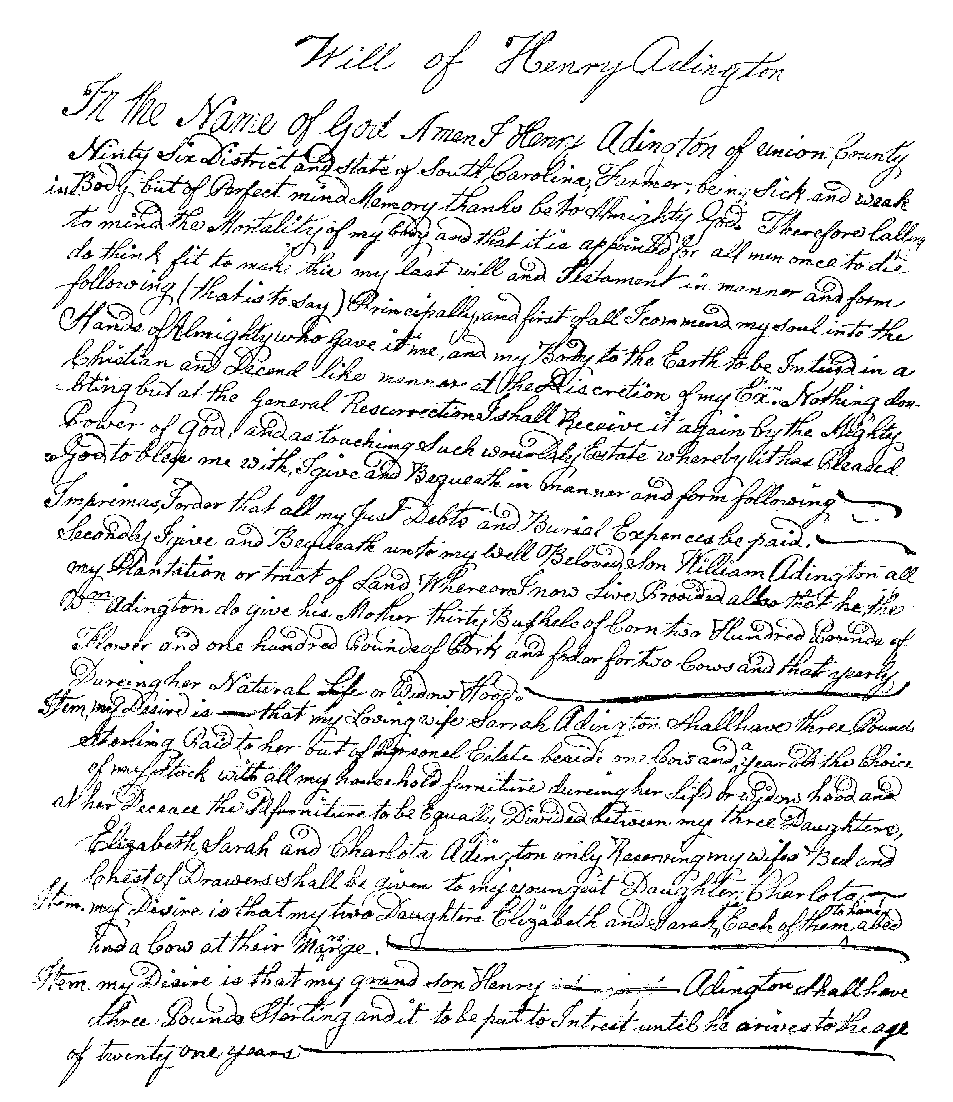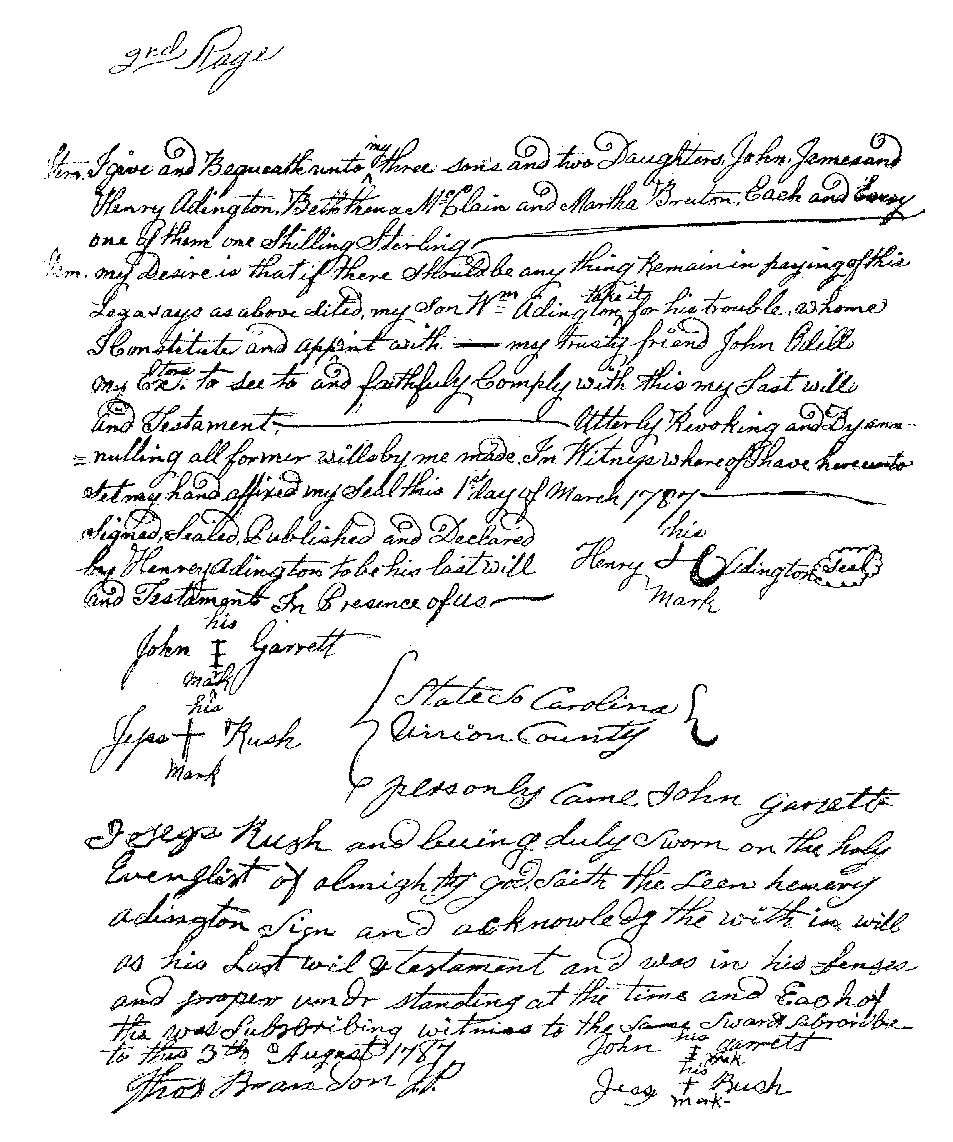 Will of Henry Addington

In the Name of God Amen. I Henry Adington of Union County
Ninty Six District and State of South Caroline, Farmer, being
sick and weak in Body but of Perfect mind Memory Thanks be to
Almighty God. Therefore Calling to mind the Mortality of my
body and that it is appointed for all men once to die do think
fit to make this my last will and Testament in manner and form
following (that is to say) Principally, and first of all I
commend my soul into the Hands of Almighty who gave it me, and
my Body to the Earth to be Interred in a Christian and descend
like manner at the Discretion of my Ex. Nothing doubting but
at the general Resurrection I shall Receive it again by the
Mighty Power of God, and as touching Such worldly Estate
whereby it has Pleased God to bless me with, I give and
Bequeath in manner and form following ----------------

Imprimas, I order that all my Just Debts and Burial Expenses
be paid. -------------------------------

Secondly I give and Bequeath unto my well Beloved Son William
Adington all my Plantation or tract of Land Whereon I now Live
Provided also that he the Wm. Adington do give his Mother
thirty Bushels of Corn two Hundred Pounds of Flower and one
hundred Pounds of Pork and fodor for two Cows and that yearly
During her Natural Life or Widow Hood. -------------------

Item. My Desire is that my Loving wife Sarrah Adington shall
have three Pounds Sterling Paid to her our of my personal
Estate beside one Cow and a year old the Choice of my Stock
with all my household furniture during her Life or widowhood
and at her Decease the sd furniture to be Equally Divided
between my three Daughters, Elizabeth, Sarah and Charolta
Adington only Reserving my wifes Bed and Chest of Drawers
shall be given to my youngest Daughter Charlota. ------------

Item. My Desire it that my two Daughters Elizabeth and Sarah
is Each of them to have a bed and a Cow at their Marriage. --

Item. My Desire is that my grand son Henry Addington shall
have three Pounds Sterling and it to be put to Interest until
he arrives to the age of twenty one years. -------------

2nd page

Item. I give and Bequeath unto my three sons and two
Daughters John, James and Henry Adington, Bethena McClain and
Martha Bruton, Each and Every one of them one Shiling
Sterling. ---------------------------------------

Item. My Desire is that if there should be anything Remain
in paying of this Legasays as above listed, my Son Wm.
Adington take it for his trouble, whome I Constitute and
appoint with my trusty friend John Odell me Extors. to see
to and faithfuly Comply with this my Last will and Testament. --
--------- Utterly Revoking and By annulling all former wills
by me made. In Witness whereof I have hereunto set my hand
affixed my Seal this 1st day of March 1787 --------------

Signed, Sealed , Published and his
declared by Henry Adington to be his Henry Adington Seal
last Will and Testament in Presence mark
of us ------

his
John Garrett
mark


his State So Carolina
Jess Rush Union County
mark
personly came John Garrett
& Jess Rush and being duly sworn on the holy Evenglist of
almighty God, saith the seen henry adington sign and
acknowledg the with in will as his Last wil & testament and
was in his senses and proper undr standing at the time and
Each of them was subscribing witness to the same swore
subscribe to this 3th August 1787

his
John Garrett
Thos Brandon J. P. mark
his
Jess Rush
mark


Transcription from: Addington, a directory of the descendants of Henry and Sarah Addington of Union County, South Carolina, by Naomi Louise Addington Patterson and Mary Jane Edwards, Heritage Books, Bowie, Maryland, 1989.
Return to Addington Association Home Page